Not too long ago, I had decided to change careers and went back to school in order to do so.  Well, I can remember buying books every semester and paying well over $100 for them and then selling them back at the end of the semester for about $10.  Being that we were a one income family at the time, it was not something that I wanted to do, pay a fortune for books that to be honest,  would not need once done with the course.
Campus Book Rentals helps to resolve this issue.  They allow you to rent books, you can use them as if they were your own, you can highlight whatever you need.  They have free shipping both ways.  You will receive your books quickly and you do not have to go to the campus book store, wait in line and hope your book is available.  I really wish I had known about this place when I was in school!  Here is a link to one of the books I would have needed and paid about $140 for (this was a few years ago so I am sure the price went up since then), I can rent this one for just under $90, prices vary depending on length of rental/semester.  You can go here and get more information on renting books and to watch an informative video that will answer more questions.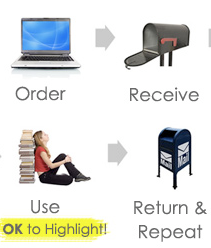 Yes, it can be that easy!
Another thing I love about this company, as many of you may already be aware, I promote donating to what you can when you can.  Campus Book Rentals donates a portion of their proceeds to Operation Smile.  I absolutely love the idea that people help children in need, if you are unaware of what Operation Smile is, please go click on the link to check them out.
This is a sponsored post, however all opinions are my own and were not influenced in any way.